From the Town of Wrightsville Beach Newsletter
THANKSGIVING WEEKEND AT WRIGHTSVILLE BEACH
See below for a schedule of activities as well as important traffic and parking information to help you prepare for this fun-filled holiday weekend!
---
THANKSGIVING DAY – NOVEMBER 25
CAPE FEAR HABITAT FOR HUMANITY TURKEY TROT
8:30 AM
Thanksgiving Day brings the Cape Fear Habitat for Humanity Turkey Trot to Wrightsville Beach. More than 2,500 locals and visitors will run this annual event that begins at Wrightsville Beach Town Hall at 8:30 am. Salisbury Street/Hwy 74 will be closed from 8:25 am until approximately 9:20 am. Wrightsville Beach Police Officers will be directing traffic where necessary. You may experience some traffic delays as these runners make their way around the Loop 5k route for this annual fund-raising event.
---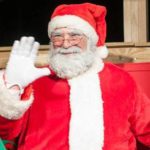 FRIDAY, NOVEMBER 26
5:30 – 7:30 pm
WRIGHTSVILLE BEACH
WELCOMES SANTA
See the great tree and all the holiday decorations! Wave to the Jolly Old Elf and hand deliver your Christmas wish list! We're keeping Santa healthy again this year as he has lots of work to do! Beginning at 5:30 pm, drive through the town hall parking area where your child(ren) can speak to Santa and hand deliver his or her Christmas wish list. Word is Santa plans to hand out an early Christmas present.
---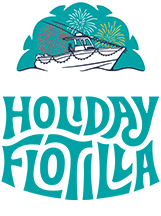 SATURDAY
NOVEMBER 27
THE NORTH CAROLINA HOLIDAY FLOTILLA
10:00 am – 4:00 pm
Festival in the Park
6:00 pm Boat Parade
followed by a spectacular fireworks display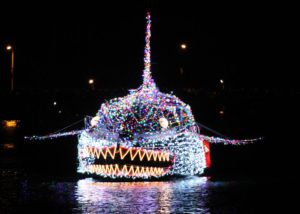 The North Carolina Holiday Flotilla celebration begins with the Festival in the Park from 10:00 am – 4:00 pm in Wrightsville Beach Park. That evening the Boat Parade begins promptly at 6:00 pm followed by an exciting fireworks display. Please arrive early as the Wrightsville Beach drawbridge will be raised at 6:00 pm to allow the boats to travel down the Intracoastal Waterway to the Banks Channel parade route. And, when you park, please make certain that your vehicle is off the roadway and not blocking emergency vehicle access, which could hinder response to an emergency call. Thank you for your cooperation during this fun-filled event!!
---
For further information, please contact Wrightsville Beach Parks & Recreation (910) 256 – 7925 or email [email protected].
Town of Wrightsville Beach | 321 Causeway Drive, Wrightsville Beach, NC 28480